Awards
Every year, NOF invites young researchers to enter the Nordic Hatton Award Competition
The objective of the award is to encourage and reward outstanding young dental scientists. Candidates of this award present their study results in the regional (NOF, CED, PER) IADR meeting and an independent evaluation committee announces two NOF winners. Each winner receives a stipend and automatic admission and expenses for travel and accommodation to attend the international Hatton Award Competition to be held at the successive year's IADR meeting.
NOF sends the announcement of Hatton Award Competition to its members and Nordic universities, by email.
Only members of NOF can participate in the NOF competition.
Winners of the NOF Hatton Award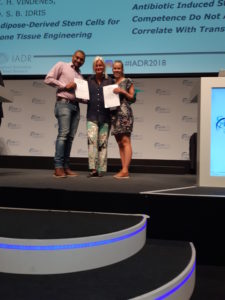 2018: Kjersti Sturød (University of Oslo, Norway) and Samih Mohamed Ahmed (University of Bergen, Norway)
Previous winners:
2017: Siddharth Shanbhag (University of Bergen, Norway) and Victor Tollemar (Karolinska Institute, Sweden)
2016: Eero Karjalainen (University of Turku, Finland) and Sanja Petronijevic (University of Oslo, Norway)
2015: Dareen Fteita (University of Turku, Finland) and Gabriela Salvadori da Silva (University of Oslo, Norway)
2014: Roger Junges (University of Oslo, Norway) and Haleh Davanian Mohaghegh (Karolinska Institute, Sweden)
2013: Roda Seseogullari-Dirihan (University of Turku, Finland) and Torbjørn Østvik Pedersen (University of Bergen, Norway)
2012: Jaana Helenius Hietala (University of Helsinki) and Ellen Kaas (university of Copenhagen, Denmark)
2011: Mervi Gürsoy (University of Turku, Finland) and Tove Båge (Karolinska Institute, Sweden)